In her faded duster clothing and an old comb serves as a hair-clip, she was up early. Without a breakfast or even a coffee to start her day, she exited out of her house's fragile door in her equally dilapidated slippers and in a brisk walking fashion, she then threaded the earth road muddied by the rain that just happened the night before. She had to be there early. 
Today, is the scheduled day her employer will distribute pieces of jusi cloth for embroidery to the women of the barrio. A minute late, she will get less of what she would wanted or perhaps none. If lucky, she'll get five to work for it the entire week, three pieces will suffice, one or none will mean catastrophic. Her children won't have a descent meal for a day or two. A tragedy no mother can even fathom. She will wait there for her name to be called. As a trusted and reliable Burdadera, she will be favored. 
It's her lucky day. She got more than what she hoped for, six to be exact. She got paid a quarter of what she would supposed to have and the rest when she finished toiling for everything. With a smile on her face, she will stop by the local bakery and buy "pandesal" and five slices of cheddar cheese. Her five kids will wake up for a hearty breakfast this morning before going to school. It warms her heart knowing she did good today as a mother providing much needed nutrients for her children. At least for the day. 
As she hurried home, she will think of how she will budget the money she has for the rest of the week while waiting for the rest of the money she will work for. She had to pay the local convenience store she owed and a school project one of her kids need to submit. By the time she gets home, no money will be left according to her computation as all the money are assigned to something else. But it's ok. Today they will survive. Tomorrow will be another day.  
Breakfast is done. Kids are in school. She will then start her ordeal. She will carefully place the jusi cloth to an old tambour wrapped in cotton cloth, positioned it inclined on a wooden stall just about the height she desired and sat comfortably on a floor covered by "banig", a woven palm leaves mat. Her back bended, her head bowed, her strokes were quick, her fingers are as delicate as the strands she maneuvered in and out of the cloth using a needle  and with the help of her laser focused eyes strained from the rudiments of years of embroidering.
Voiced over by a radio drama program, she will stay seated and will be busy for the rest of the day. It was mechanical but nevertheless majestic. What she will finished is something remarkable. A work of art composed of blood, sweat and tears perfected by the skills brought about her unimaginable patience.
The vividness of this memory is the portrait of my mother as I remember her during her prime as a skilled "Burdadera". Hers is a story of strength, passion, patience and resilience. Her love for the craft is triggered by her love of her family. Her endurance is far from fleeting and her sense of family is nothing short of heroic. 
But her story is not just her own. It's every "Burdadera's" story whom for ages had strengthen the economic backbone of the Municipality of Lumban and single-genderly put the town as the embroidery capital of the Philippines and as the proud artistic maker of Barong Tagalog and Filipiniana gown.  
Adored by many, these dresses both for men and women is of intricate design and meticulous embroidery. A symbol of national identity, it is worn in every special occasion. May it be in a wedding or in any formal gathering, embroidered Barong or gown is a must to showcase the grandeur of the event. 
In a patriarchal country such as the Philippines, Lumban is unique as the women's role is regarded highly in equal of men. Most of them are the breadwinners and homemakers at the same time. Here, women power is prevalent and can't be disregarded.  
Their legacy lives on. The artistry remains. The beauty of their work transcends time. For every piece you wear, every masterpiece of a Barong Tagalog and mestiza gown you see, remember that the heart and soul of the women of Lumban is embroidered on it. 
My mother had aged and doesn't do embroidery anymore. Me and the rest of my siblings grew witness to her art that survived us. It was a shame that we never learned her craft but it was also a choice she made as she wanted us to take a different path. She knew the hard-labor of her skill. Instead, she actively participated in passing on the tradition to others who were interested. Little does she knew, she and the likes of her should be considered collectively as a national treasure. The face of an extra-ordinary Filipina whose courage and skills in building a thriving community born ahead of their time.    
For my mother and to the women of Lumban.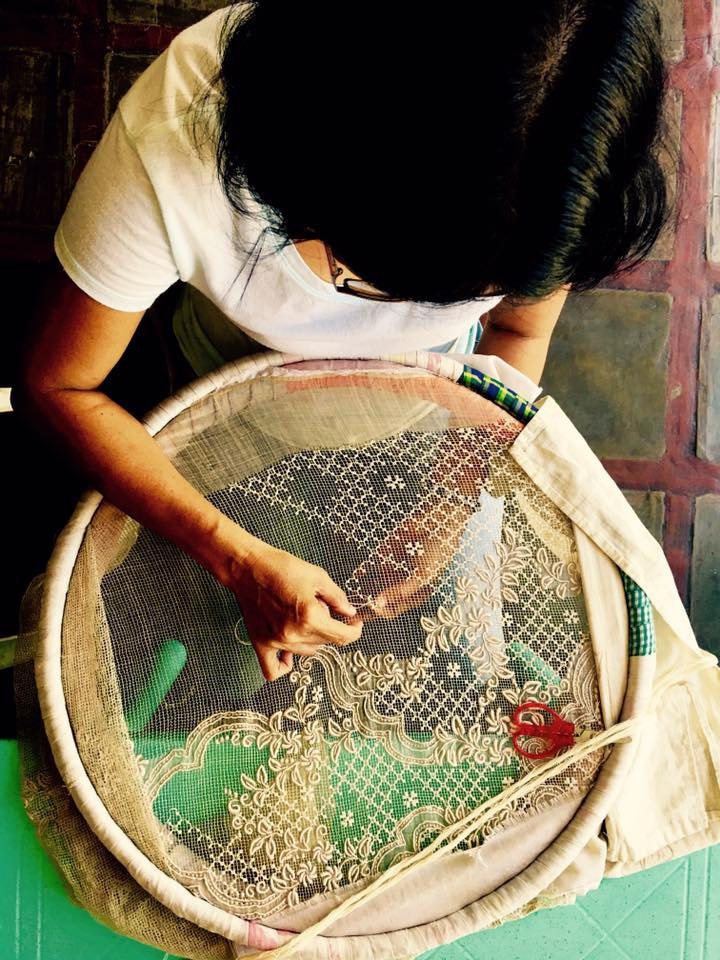 Photos courtesy of Mr. Jason Lagrada, Lumban Tourism Head.